First discovered positive effect of L-norvaline on the volume of small intestine tissues necrosis in a model of segmental mesenteric thrombosis in rats
Abstract
Introduction: Mesenteric thrombosis is a severe pathology with necrotization of intestinal tissues and death of the patient. The development of effective pharmacotherapy is an important task facing researchers.
Materials and Methods: All studies were performed on 42 female white rats of the Wistar line, weighing 250±25 g. Segmental mesenteric thrombosis was reproduced by ligation of three segmental arteries in the area of the ileum. The volume of necrosis was determined by the triphenyl tetrazolium method.
Results and Discussion: We have studied for the first time the effect of the arginase inhibitor L-norvaline on the volume of small intestine necrotized tissues in a model of acute segmental mesenteric thrombosis in rats. The study revealed a decrease in the volume of necrotic tissues from 32.39±0.47% to 23.84±0.39%, and the administration of glibenclamide did not cause complete cancellation of the L-norvaline action and led to a decrease in the volume of necrosis to 29.69±0.42%.
Conclusion: Arginase inhibitor L-norvaline has protective effect in intestinal ischemia
Graphical Abstract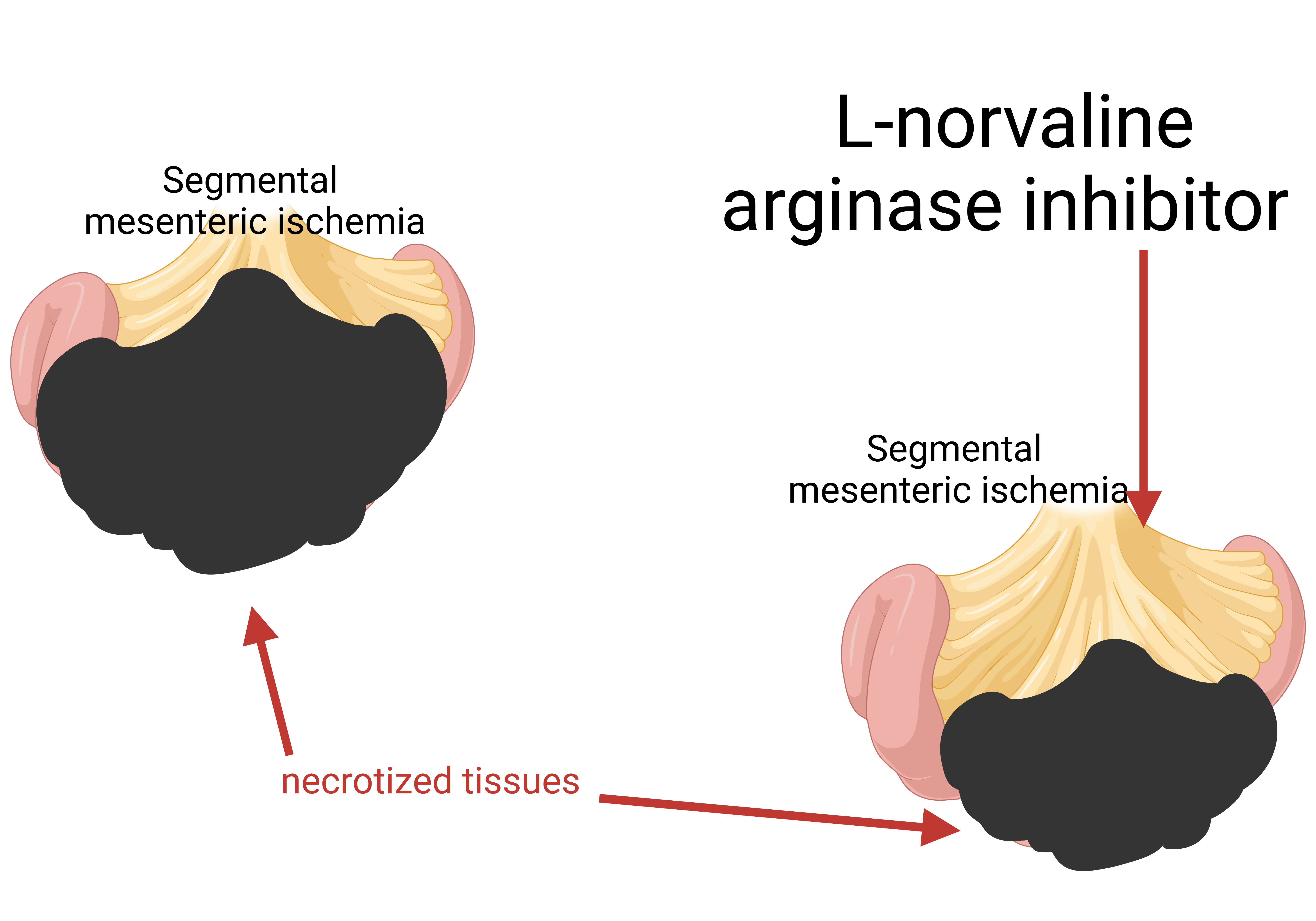 Keywords:
mesenteric thrombosis, L-norvaline, volume of necrotised tissues
References
Bezhina EN, Alekhin SA, Artyushkova EB, Orlova AY, Sernov LN, Denisuk TA, Peresypkina AA (2020) Effect of L-norvaline on the small intestinal wall blood perfusion in a model acute segmental mesenteric thrombosis. Archivos Venezolanos de Farmacologia y Terapeutica 39(5): 556–560. https://doi.org/10.5281/zenodo.4266263
Cheruiyot I, Kipkorir V, Ngure B, Misiani M, Munguti J, Ogeng'o J (2021) Arterial thrombosis in coronavirus disease 2019 patients: A rapid systematic review. Annals of Vascular Surgery 70: 273–281. https://doi.org/10.1016/j.avsg.2020.08.087 [PubMed] [PMC]
Coelho A, Logo M, Gouveia R, Campos J, Augusto R, Canedo A (2016) Acute mesenteric ischemia: epidemiology, risk ractors and determinants of mortality. Revista Portuguesa de Cirurgia Cardio-Torácica e Vascular 23(3-4): 137–143. [PubMed]
Korokin MV, Pokrovskii MV, Gudyrev OS, Korokina LV, Pokrovskaia TG, Lazarev AI, Philippenko NG, Gureev VV (2015) Pharmacological correction of endothelial dysfunction in rats using e-NOS cofactors. Research Journal of Pharmaceutical, Biological and Chemical Sciences 6(5): 1548–1552.
Miyake H, Koike Y, Seo S, Lee C, Li B, Ganji N, Pierro A (2020) The effect of pre- and post-remote ischemic conditioning reduces the injury associated with intestinal ischemia/reperfusion. Pediatric Surgery International 36(12): 1437–1442. https://doi.org/10.1007/s00383-020-04762-5 [PubMed]
Downloads
How to Cite
Alekhin SA, Bezhina EN, Nazarenko DP, Druzhikin LV (2023) First discovered positive effect of L-norvaline on the volume of small intestine tissues necrosis in a model of segmental mesenteric thrombosis in rats . Research Results in Pharmacology 9(2): 17–19. https://doi.org/10.18413/rrpharmacology.9.10022
Section
Short Communication